Our project «Low emission offshore aquaculture value chain» is part of the national Norwegian Green platform Initiative. The Green platform Initiative provides funding for enterprises and research institutes engaged in green growth driven by research and innovation.
The Green platform Initiative was part of the Norwegian Government's third package of financial measures launched in May 2020 in response to the coronavirus pandemic. The Government then granted NOK 1 billion over a period of three years to a green transition of the industrial sector.
The goal is to strengthen Norwegian value creation and exports and enable Norway to implement the green transition and create green growth. The Green platform will also make Norwegian companies and research institutions better equipped to exploit the opportunities provided by the EU's Green Deal initiative under the research and innovation programme Horizon Europe. You can read more about the Green platform Initiative here.
Low emissions value chain for offshore aquaculture
Blue Planet AS is the company in charge of the project. Project Manager is professor Ragnar Tveterås from the University of Stavanger.
Offshore fishfarming represents a whole set of challenges with rough weather conditions, long distances to infrastructure, and new conditions for salmon farming. The project «Low emission offshore aquaculture value chain» will lead to innovations and knowledge that reduces the energy use and CO2 footprint, and offers the fish good living conditions. The innovations are within the areas of closed containment farming with robust post-smolt, floating fish food for offshore farming, electrification in all areas of production, multi-operational vessels, semi-autonomous operation and digital tools.
The project will contribute to offshore aquaculture becoming a sustainable addition to other protein-producing sectors on land and in sea by focusing on reduced CO2 emissions, environmental impact and production costs. It will make a decisive contribution to ocean aquaculture achieving climate and environmental footprint in accordance with the EU's Green Deal and taxonomy and production costs that make it a sustainable alternative to other protein-producing sectors on land and sea. A successful innovation process can lead to an annual value creation in the order of NOK 100 billion by 2050.
The project will have an organized dialogue arena with public and private actors with knowledge and interests in the ocean space. Through the dialogue arena, the project will also contribute to the responsible development of public regulations and monitoring that have not been established today.
The Green platform project «Low emission offshore aquaculture value chain» includes 6 subprojects and a knowledge building project:
Green pellet for offshore sub-surface feeding
Robust post-smolt in closed containment system
Electrification of offshore fishfarming
Control system for semi-autonomous offshore fishfarms
Improved fish welfare
Offshore logistics
Knowledge building project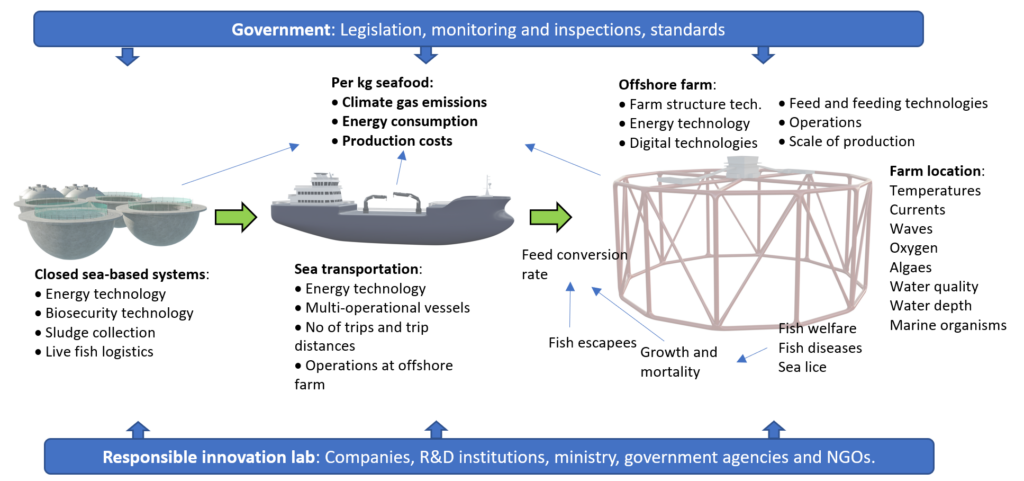 Knowledge-building Project for Green platform: Unleashing the sustainable value creation potential of offshore ocean aquaculture (SusOffAqua)
The project unites a cross-disciplinary team of scientists in a unique effort to provide competence, innovation and technology to ensure sustainability and resilience in future offshore aquaculture and its value chains. Ocean resources must be carefully managed, and our oceans are under pressure with multiple users and the ever more imminent global climate change. If the novel offshore aquaculture industry is to achieve societal acceptance and its full potential, the production must be in accordance with the aim to achieve climate neutrality and preserve biodiversity.
The consortium will develop real time monitoring approaches and work towards preventive biosecurity and reduced environmental impact. The concept of an artificial intelligence based autonomous steering system will be piloted as a key enabling technology. This research tackles autonomic information technologies with processes that are autonomously synthesized to an offshore aquaculture management platform that is aware of its architecture and effects and is able to (re-) organise processes at runtime by self-adaptation and optimization. The potential for the implementation of such a technology in future offshore aquaculture will be evaluated in the areas highly relevant for offshore aquaculture, particularly feeding in view of high GHG emissions related to feed value chain. Concurrently fundamental knowledge will be built in key aspects of biological performance, biosecurity, ecological impact, fish welfare and energy systems in with relevance to developing sustainable offshore aquaculture value chains. The project will seek to develop and validate tools (LCA and economic analytics & energy system analysis) to assess to which extent uptake of technology and other innovations can propel the sector towards climate neutrality and low environmental impact.
Responsible Innovation Lab
The Green Platform project includes an organized dialogue arena – a 'Responsible Innovation Lab' (RIL) — which brings together public and private actors with knowledge and expertise in the ocean space in general and aquaculture in particular. RIL provides sustainability-focused experimentation and knowledge co-creation between multiple stakeholders, including researchers, government, firms, public management organizations, and NGOs . It serves as a dialogue arena where stakeholders can contribute to the responsible development of a regulatory regime for offshore aquaculture which balances economic, environmental, and social considerations.